Commercial Management |
Commercial Management:
Beijing Xinshi Reliance Commerce Co., Ltd, the subsidiary of Reliance Commercial Land Pte. Ltd. focusing on commercial management field, whose business majorly concentrates on commercial real estate, cultural tourism real estate, and business incubators. Xinshi Reliance Commerce Co., Ltd has an insight into the domestic and overseas latest tendency, comprehensively develops the ground brand advantages, and creates innovative intelligent retail projects integrating the international vision. The company gives priority to office leasing, commercial trusteeship, cultural creation exhibition, and brand operation and realizes the investment prospect of "creating the cash flow and maximization of asset value" for developers, retailers and investors from perspectives of interaction, technical application and artistic experience.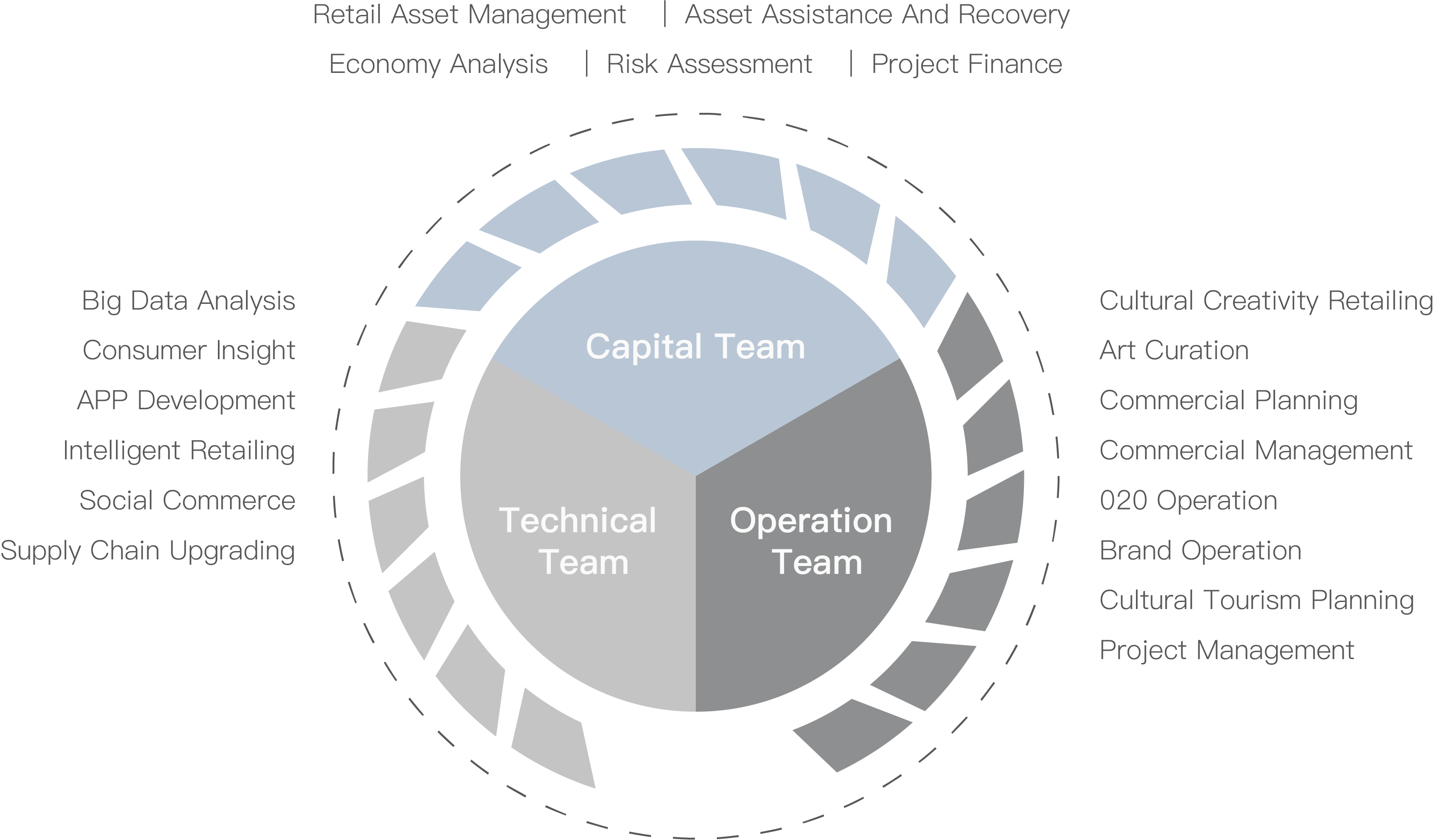 At present, Xinshi Reliance Commerce Co. Ltd has numbers of commercial program with highlights—Beijing "Jianjing TRENDS" shopping center created by the group and Trends Media Group is located in the fashionable landmark Sanlitun. With the concept of "most-in fashion tribe", it gathers fashion brands designed by popular celebrities such as Jay Chou, Huang Xiaoming and Meng Fei. Meanwhile, it covers the new-type catering and multi-field lifestyle experience space guiding the health trends and perfectly integrates with the art and fashion genes. The "Fashionwalk shopping center" subordinate to the group is located in a second-tier city, it is highly representative of the excellent operation sample in the industry with outstanding performance of an annual sales of more than 1.4 billion Chines Yuan. "N1 Xin Tiandi art shopping center" focuses on "culture, creativity and art" to reshape the commercial spatial trans-boundary mode. The architectural design is deeply versed in the modern aesthetics and endows the brand with new brand of culture genes, and it was awarded the "Design and New Development" Silver Award from the ICSC International Association of Shopping Centers, a leading authoritative organization.
In terms of talents, the company has the elite investment team coming from the top-level large-scale commercial real estate companies as well as ample operation management expertise. At present, Xinshi Reliance Commerce Co., Ltd has reached strategic cooperation with Trends Media Group, Jiangsu 1912 Group, and Jinke Industrial Investment Co., Ltd.

Commercial Projects